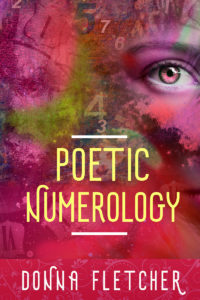 Years ago, a friend asked me to take a class with her on numerology. It sounded interesting so I went with her. Little did I know how much I would enjoy it and how involved I would become with it. Years later I taught numerology classes myself and gave talks on it at libraries and bookstores. I began toying with an idea for a short book on numerology and amazingly I wrote the whole book in rhyme. I offered it as an ebook, but recently I updated it and added a print version. The print version contains pages where you can keep notes of your numbers or jot down thoughts on them. The book is meant to enjoy and entertain.
Numerology with a poetic flair!
Poetic Numerology introduces the nine basic numbers of numerology and details how to determine your destiny and achievement numbers. Once you determine those, it's off to your numbers to discover things about yourself.
But why stop there? You're sure to want to know about your partner, family, and friends. Poetic Numerology teaches basic numerology in a most lyrical and entertaining way. 
Paperback edition includes practice pages to do your numbers and is only available at Amazon.
Paperback & ebook Amazon
Ebook only Apple Books   Nook   Kobo