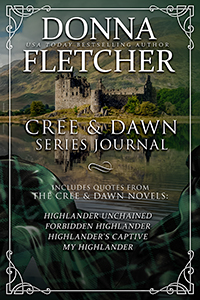 I love journals and I love writing about Cree & Dawn. So it seemed only logical to put together a Cree & Dawn Series Journal.  It's available at Amazon. I hope you enjoy it and fill it with lots of fun stuff that puts a smile on your face!
Here's the description of the journal. 
For fans of the Scottish historical romance Cree & Dawn Series comes a journal, 100 pages, plus quotes from four of their novels; Highlander Unchained, Forbidden Highlander, Highlander's Captive, and My Highlander. Fill it with your thoughts, notes, to-do lists, books you've read or plan to read or doodle to your heart's content.
Carry a little bit of Cree & Dawn's unforgettable story and remarkable love with you wherever you go.
Of course, I'm filling my copy with notes on future Cree & Dawn books!