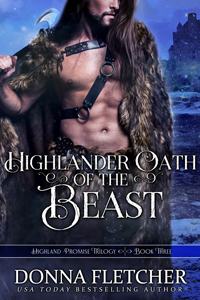 Everything is moving along nicely for the release late next week of Highlander Oath of the Beast. I can't wait for you to read about Wolf and Raven. I had the best time writing about the couple. Raven is remarkably brave, but then she had no other choice and Wolf has no idea what he's in store for, though he soon finds out. The pair were a challenge, but love has a way of changing things. Then there are the secrets that come to light… surprising even me!
Included in Highlander Oath of the Beast is a sample from Highland Intrigue the prequel to my next trilogy… Highland Intrigue Trilogy!
Keep watch for the release of Highlander Oath of the Beast, third book in Highland Promise Trilogy!