Two books will be ready for summer reading!
Summer reading is the best! Whether it's at the beach, the pool, the backyard, a park, or curled in a chair in a cool house, summer reading can't be beat. My Kindle is loaded and ready to go with romances, mysteries, and thrillers. I also have a stack of paperbacks since I still love the feel of a book in my hands and my aging and overworked eyes appreciate not looking at a tablet screen after having spent hours on my laptop.
Here's two  books that will be available this summer and I hope you'll add them to your reading list.
~~~~~~~~~~~~~~~~~~~~~~~~~~~~~~~~~~~~~~~~~~~~~~~~~~
Pepper, the Viking, & the Pillaged Grave will be available in July.
Mo has a gift for Pepper… a human bone.
Thirty-five years ago, seventeen-year-old Rita Carson was murdered, her eighteen-year-old boyfriend Travis Rodgers gone missing until… Mo digs up his grave.
Pepper's dad, Sheriff Madison, was a newbie in the sheriff's department back then and the one who discovered it wasn't a Halloween prank but an actual dead body in the woods. It has troubled him all these years that the case was never solved. Now is his chance to solve it, but with Travis having been dead these many years who killed Rita, and now possibly Travis as well, and is he still around?
Join Pepper and her cohorts as they work to solve the thirty-five year old crime and how they rally around Amy, her dad returning after having left her and her mom when Amy was six years old.
If you haven't read the first Pepper the Prepper Mystery Series book, Pepper, the Highlander & the Dead Guy, you can find the purchase links here.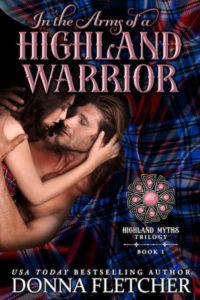 In the Arms of a Highland Warrior
Lord Donald granted his only child and daughter permission to wed a Northman she had lost her heart to, but it came with a stipulation. Their first-born son would return and rule the Clan MacShane upon the old lord's death.
That time is now as is the necessity for Lord Bhric to wed. His mother has arranged a marriage with a neighboring clan's only daughter. His mother is aware that he favors tall, strong, fearless women like herself, and he does not worry over his new bride… until he meets her.
This is the first book in Highland Myth Trilogy. You got to meet the three heroines of the trilogy and one of the heroes in Highland Secret A Cree & Dawn Novel. In the Arms of a Highland Warrior will be available early August though I'm hoping I may be able to get it to you by the end of July. Not sure yet, will keep you updated.
Working on other projects as well, though with the summer near upon us I plan to enjoy some summer fun and that includes some leisure time in the backyard reading!
Hugs!
Donna