Cree & Dawn of course! That couple have more stories to tell me than I can keep up with, so Highlander's Promise A Cree & Dawn Short Story is next. Fingers crossed it will be a summer release date.
The book cover and an excerpt will go out to my Book Alert List near the end of July and only the book cover will be posted to my blog, so if you haven't subscribed and you'd like to just go to the top of this page and to the right you'll see Subscribe to Donna's Book Alerts.  If you're wondering why I won't be posting the excerpt on my blog it's because the first chapter contains mature contents.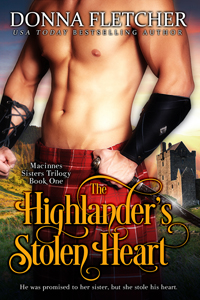 Now if you think you've heard the last from the Macinnes sisters, you're wrong. You didn't seriously think I'd leave you hanging when it came to what Emma had…a boy or girl. And aren't you the least bit interested in what the Dark Dragon's castle is like? How Heather will settle into her new home? And then there is Patience. There is no telling what she'll do. Look for a short story/novella coming about the Macinnes sisters in the future.
Then we have my Vikings. Can such savage warriors truly be loving men?  We'll see about that. I have no release date for the first book yet but I will keep you updated.
And to all who wrote to me letting me know how much you loved the Dragon and Heather's story…I so very much appreciate it. I was so worried I would disappoint you and I was so relieved that you let me know that I didn't. Hugs to you all and thanks again! 🙂