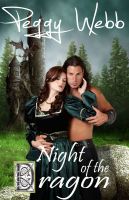 My good friend Peggy Webb just made one of her classic Loveswept books  Night of the Dragon available as an ebook and since it's the magic of time travel and has one of the best known witches in it I thought it would be perfect to give it a brief review in this month of Halloween Magic.
Let me set the scene… Lydia Star's life isn't going so good and so to start life anew she moves to California and buys the bookstore Once Upon A Time.  A basic romance plot for sure, but it isn't California where she finds her true love. First, she finds a ring in an old book in the bookstore and she begins having dreams of dashing knights.
Lydia is transported back in time but not just to any time period. She travels through time to Camelot. To say she's a fish out of water is an understatement. And to say a knight comes to her rescue is a given but… how the unlikely pair fall in love and face the intrigue of King Arthur's court together is a true love story.
And of course one of the best known witches Merlin is there to help as well.
I was turning the pages quickly wanting to get to the end yet not wanting it to end to see where the pair would wind up—back in time or in the future.  I'm not giving that away. You'll have to read it to find out, but the ending does steal your heart. 🙂
You can find Night of the Dragon by Peggy Webb on Kindle, Nook or at Smashwords.
   * * *
Merlin isn't only one of the best known witches; he's also one of the most written about. Where to separate fiction from fact is anyone's guess. Did Merlin truly live? Was he truly a great wizard? We don't know for sure but one thing I am sure about is that it's wonderful to be whisked away by magic and believe if only for a little while.
* * *
Here's a divination or more likely an old wives tale for a single woman looking to find love. On All Hallows Eve before you go to bed take a bite of an apple and then ask to see your true love. He should come to you in a dream.
Now there's a plot for a book or maybe a short story…. Hmmm that's got me thinking.  🙂
Until tomorrow when Halloween Magic continues…