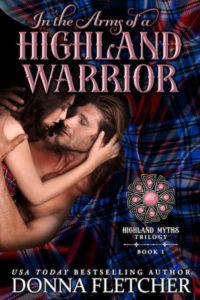 A sneak peek, first two chapters, of In The Arms of a Highland Warrior, will go out to subscribers to my newsletter on August 9th!  It is the first book in my Highland Myths Trilogy. Many of the characters from the trilogy were introduced in Highland Secrets A Cree & Dawn Novel. So if you read it, you would know who I am talking about when I say this is Tavia and Bhric's story.
Tavia lost her confidence and courage, or so she thinks, when an accident left her with a limp. Bhric is half Scotsman & half Northman. He does not lack a bit of confidence or courage. I can't wait for you to read about them.
I had hoped to have the book done for early August but it looks like it's going to be later in August. I'll keep you updated.
If you don't want to miss the sneak peek make sure you subscribe to my newsletter.
Lots of hugs! 
Donna