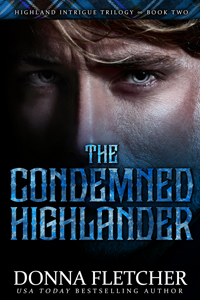 Here's the cover of book 2 in Highland Intrigue Trilogy, The Condemned Highlander, Annis & Brogan's story.
I'll be offering a sneak peek, chapters one & two, in my newsletter around the end of July. So, if you haven't subscribed yet hurry and do so. You don't want to miss it.
I'm having a grand time with Annis & Brogan. She is some character but I believe she has met her match in Brogan. Can't wait for you to read it! It will be available in September!
Take a moment and let me know what you think of the book cover. Leave a comment in the comment box.
Hugs
Donna