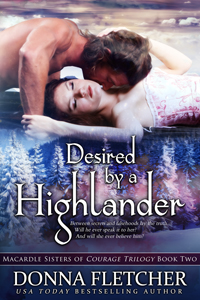 I'm so excited that everything is looking good for a mid-July release for Desired By A Highlander. I can't wait for you to read about Willow and Slatter… Miss Sensibility vs Mr. Charming or is it Mr. Liar? Intrigue & mystery abounds and so does love!
Here's a little snippet of what's to come…
Slatter chuckled. "Afraid of what you feel when I kiss you?"
"It's not proper for you to do so and I don't feel anything when you kiss me," she chastised. "And I'll have your word that you will not take any more liberties with me."
"Are you sure that's what you want, leanna?"
"I'm sure, and you will stop calling me sweetheart," she ordered and was surprised when she felt a tinge of regret.
"I give you my word that I will take no liberties with you this night. He held his hand out to her. "But I will not stop calling you leanna, since you truly have a sweet heart."
Willow shook her head. "You never stop trying to charm."
"And you forever refuse compliments," he said and his hand shot out to snatch hers. "Now let's do something that has been denied us… sleeping on what serves as a mattress."
Watch for more updates!
If you haven't read the first book in the Macardle Sisters of Courage Trilogy, Highlander of My Heart, you can find out about it here.