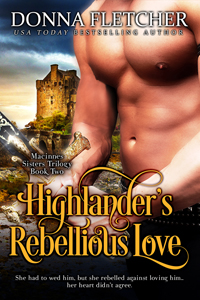 Patience Macinnes is angry that her father has ordered her north to the clan McLaud to settle a dispute when she should be searching for her sister. She intends to see the task done and resume her search. But the McLauds prove more of a problem than she anticipated, especially one McLaud in particular.
Hunter McLaud is known for his love of women. He spends his days entertaining himself with them and his nights as well. Patience has no time for the ne'er-do-well warrior until he offers her a solution to settle the problem between their clans. He asks her to marry him and unite the clans.
With the possibility of war looming over the clans, Patience has no choice but to agree to Hunter's outrageous plan, but she has some stipulations of her own. He agrees to her demands, though neither is prepared for the turmoil that follows. And neither is prepared for the demands of their hearts.
~~~
Don't miss the release of Highlander's Rebellious Love, 2nd book in the Macinnes Sisters Trilogy available mid-November… subscribe to Donna's Book Alerts (at top of page to the right).