The Latest from Donna
Embraced by a Highlander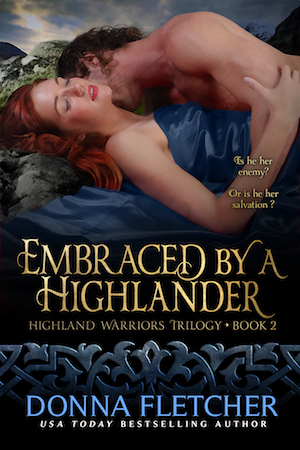 Book 2: Highland Warrior Trilogy
Hannah knows all too well that evil exists. What she's not sure of is how to escape evil. Where does she find safety from the evil that chases after her? Her only choice is to find someone who does not fear evil. Her search brings her to the MacKewan keep and Slain MacKewan, the infamous warrior known as the savage. It is with trepidation that she approaches the neglected edifice. What awaits her, she does not know. She only knows she has no place else to go.
Slain MacKewan needs the red-headed beauty who steals his heart as soon as he lays eyes on her. However, he doesn't have time for love. She is a means to an end and will settle a debt to his advantage. He wants nothing more than to seek revenge against his bitter enemy, the man who robbed him of everything.
Slain and Hannah fight against all odds to conquer evil, face the darkest of secrets, and discover a love that knows neither time nor bounds.
Find Out More
Welcome
I'm thrilled you've stopped by for a visit. Have a look around, find out the latest news, sign up for my newsletter if you would like to be kept up-to-date on new releases, and if you're curious about me go to About. Check out Extras and see what's going on there. Have a particular question you'd like to ask me, just Contact me. I love hearing from my readers.
Oh, and don't forget to have a look at my Blog. You never know what I'll be posting about.
Enjoy your visit and come back soon!
Donna