translation services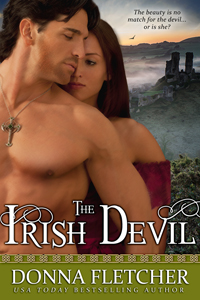 In 11th century Ireland lives an infamous warrior born of an Irish mother and a Viking father, a fierce and unforgiving soul known as the Irish Devil. For his services to the King of Ireland, Eric of Shanekill is promised a bride and given a choice of Lord William's three daughters. None appeal to the mighty warrior… not until he meets Faith, the shunned daughter of Lord William.
Faith is as kind as she is beautiful. Shunned by her father and step-mother for having had the audacity to survive a vicious attack that left her with a telltale scar, she now gives to others what was once denied to her… a caring heart and a healing touch.
Can the beauty tame the devil or will he lead her into sin?
Available: Kindle, Nook, Kobo, Apple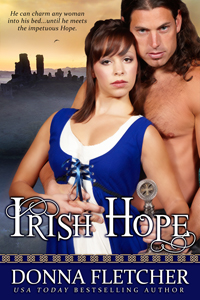 Lady Hope is an ancestor of the high king of Ireland and has a spirited soul that is set on adventure before she must settle into an arranged marriage. Disguised as a lad and accompanied by her faithful, though cowardly dog Lady Gwyneth, Hope sets out on her journey. Only to discover that adventure can be dangerous… to the heart.
Colin of Shanekill can charm any woman into his bed and conquer any warrior in battle. But true love has eluded him, or has he eluded love? While on a mission for the Irish Devil to find Lady Hope a spoiled aristocrat who ran away from responsibility, he comes across a young lad, Harold, in dire need of help. He takes charge of him, seeing to his care and teaches him what it takes to become a man and what it takes to charm a woman.
Once identities are discovered can the charmer tempt the impetuous Lady Hope or will she teach him to finally love?
Available: Kindle, Nook, Kobo, Apple
SCOTTISH DUO
Moira Maclean is summoned by Mother Abbess in the dead of night. Frightened and worried and with no time to dress, she rushes in her night dress and bare feet to discover disturbing news. Her father and brothers have been killed by a rival clan and it is her father's dying wish that she wed the Highlander warrior he sent to keep her safe.
The stranger appears to have come directly from the battlefield and Moira has little choice but to obey her father's dying wish. A hasty ceremony and equally hasty consummation, and it's over, though Moira soon finds that… it has only just begun.
Her father arrives and she learns that the warrior she wed, Ian of the clan Cameron, is her father's mortal enemy. A bargain is struck between the two men and she is once again left at the convent to live out her days.
But danger lurks in the shadows and Moira carries a secret she's been warned not to share and with her life in peril Ian returns to take his wife home. It doesn't take long for Ian to realize that Moira has the power to heal his broken heart and that he has the power to wake her dormant passion and love has the power to bring the unlikely pair together.
Available: Kindle, Nook, Kobo, Apple
Brianna Cameron has had a difficult married life. Finally free of an abusive husband, she's now content to live with her brother Ian and his wife Moira of the clan Maclean. Life, at last, is good for Brianna, but not for long. A carriage accident leaves her alone and badly wounded in the woods. She fears for her fate and when a stranger approaches and she catches sight of his face… she screams herself into unconsciousness.
Royce didn't intend to frighten the injured beauty… he simply wants to help her heal. Left terribly scarred by a recent battle Royce has sought solitude to help heal more than just his wounds.
Brianna finds it difficult to trust any man, but the badly scarred Highlander warrior is gentle and kind to her and it isn't only her body he helps to heal but also her heart.
But Royce has a secret that could destroy their love and when danger threatens Brianna's life, it's the powerful Highlander warrior that comes to her rescue and seals their fate.
Available: Kindle, Nook, Kobo, Apple